Underground Tunnels
Edit
Tunneling is a strategy of tranportation that is safer than on foot. It consists of a 1x2 tunnel leading to where your destination is (it can be bigger than 1x2 depending on your opinion). If you find a meteor close by, you can use the tunneling strategy to get there safe without running into zombies or dragons.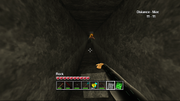 There is no current record for the longest tunnel.
Above Ground Tunnels
Edit
Above ground tunnels are the same thing; used as a safe transportation. But instead of digging, you build the tunnels above ground. Still, a 1x2 tunnel. It has two walls on either side, and one a one block roof. 
Ad blocker interference detected!
Wikia is a free-to-use site that makes money from advertising. We have a modified experience for viewers using ad blockers

Wikia is not accessible if you've made further modifications. Remove the custom ad blocker rule(s) and the page will load as expected.