CastleMiner Z so far... (2018)
Edit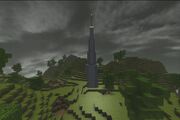 Bread1129 here. The year is 2018. Apparently the last time this was edited was 6 years ago, in 2012. I will leave the rest alone (Besides the Contributors Section). Its honestly very sad what this wiki has become. It's a ghost town, really.
This is Bread, signing out.
Contributors
Edit
CastleMiner Z is awesome so far but we need more people who are eager to help us out. Luckily, we have only a handful of contributors that are helping out this site: R.I.P stands for contributors that have not been active for more than a month. Active stands for those who contribute daily or weekly.
Update 1.4 is Here
Edit
The 1.4 update came out March 16th, 2012 to CastleMiner Z and it has changed many things in the game:
Graphics are slightly improved
New enemy type
New game mode
Locator and teleporter added to CastleMiner Z
Update 1.42
Edit
Gives you the option to erase your storage and to change axis invertion and brightness
Spawn rate is 5% faster regardless of difficulty
Hardcore difficulty still in Survival except for Creative nor Endurance
Game description was put in wrong for Dragon Endurance and Free Build
Free Build was removed, replaced with 'No Enemies' mode for Survival and Creative
Update 1.4.4
Edit
Allows you to optimize and erase your storage
Zoom is slightly increased for all guns except for the Pistol and shotgun
Update 1.4.5
Edit
Multiplayer count increase from 4-8, prepare to become a leader
invisible avatar glitch patched
Game mode descriptions fixed and difficulty descriptions added
Shadowing bug fixed
Update 1.4.6
Edit
released patch notes
minor bug fixes
Update 1.5
Edit
New biome added
New weapons added
New block and Ore added
New Heavy Ground unit added called "Alien"
Dragons have slightly more health and do slightly more Damage
Zombie do slightly more damage, health remains the same
Update 1.5.1
Edit
Issues dealing with lag fixed